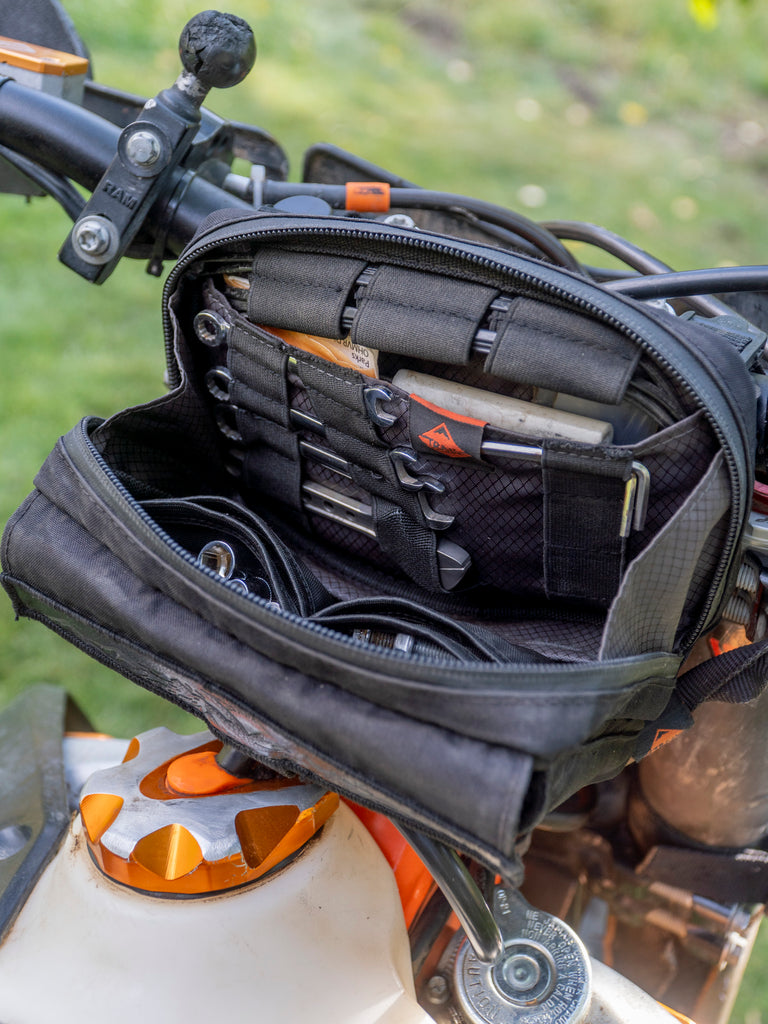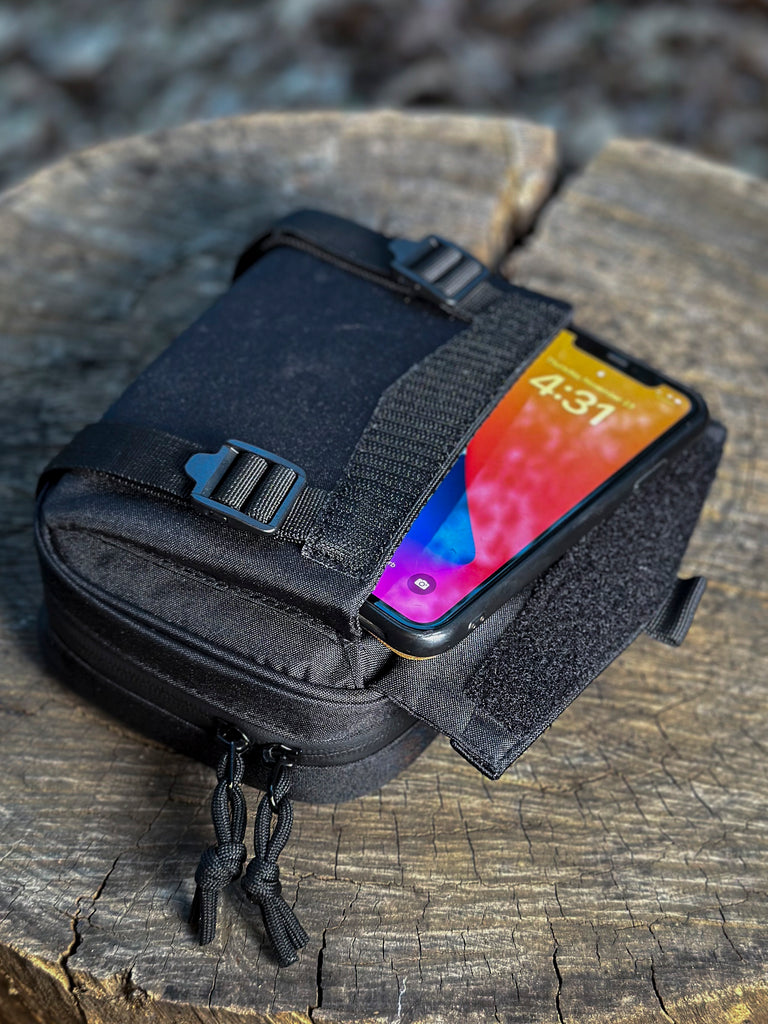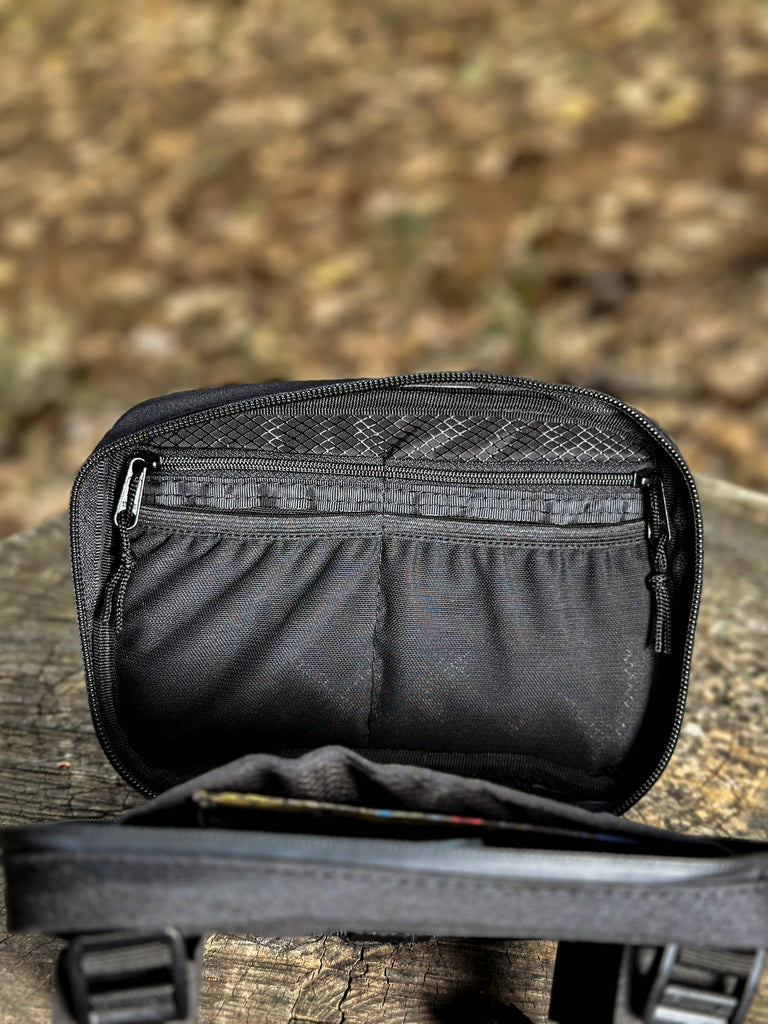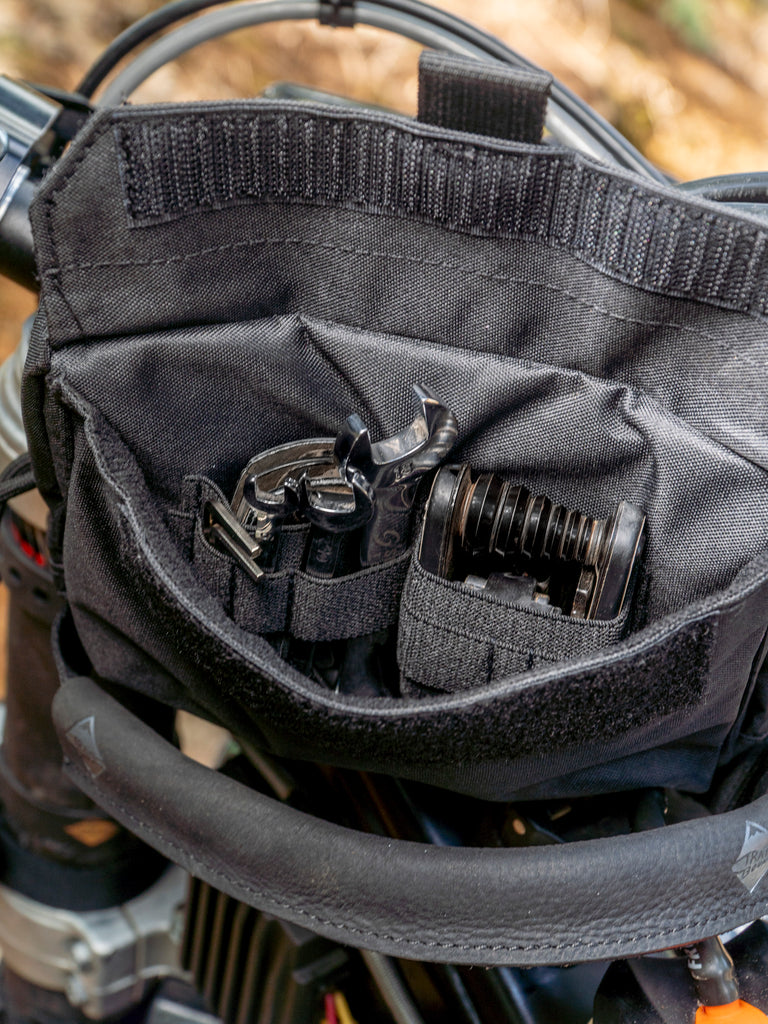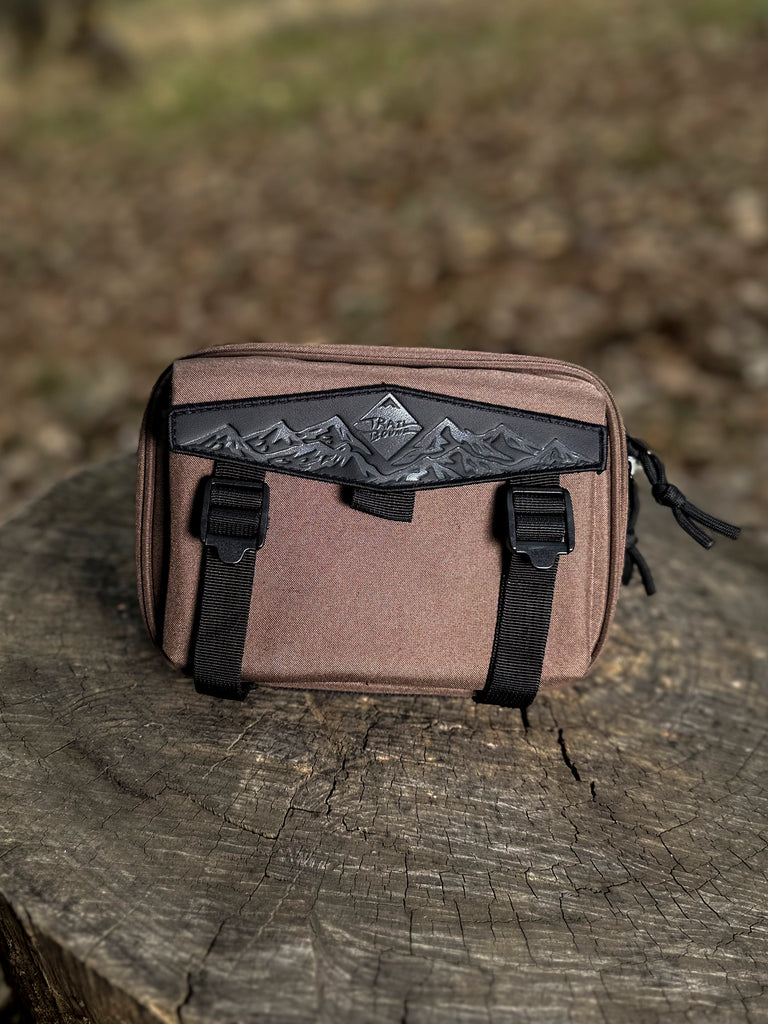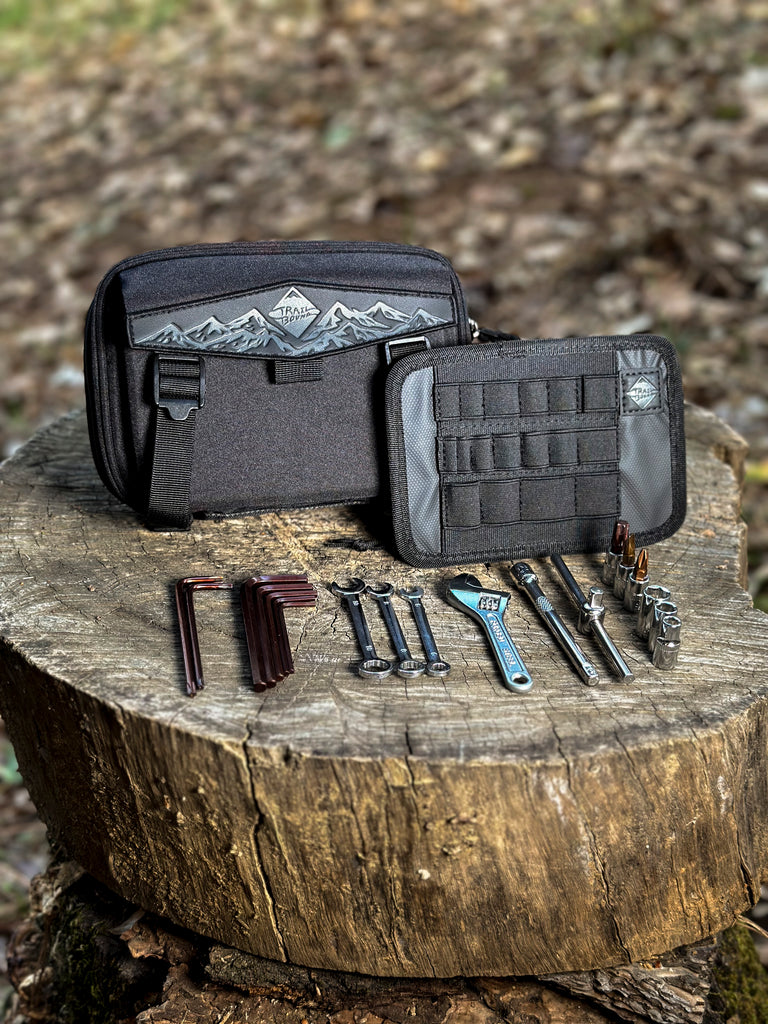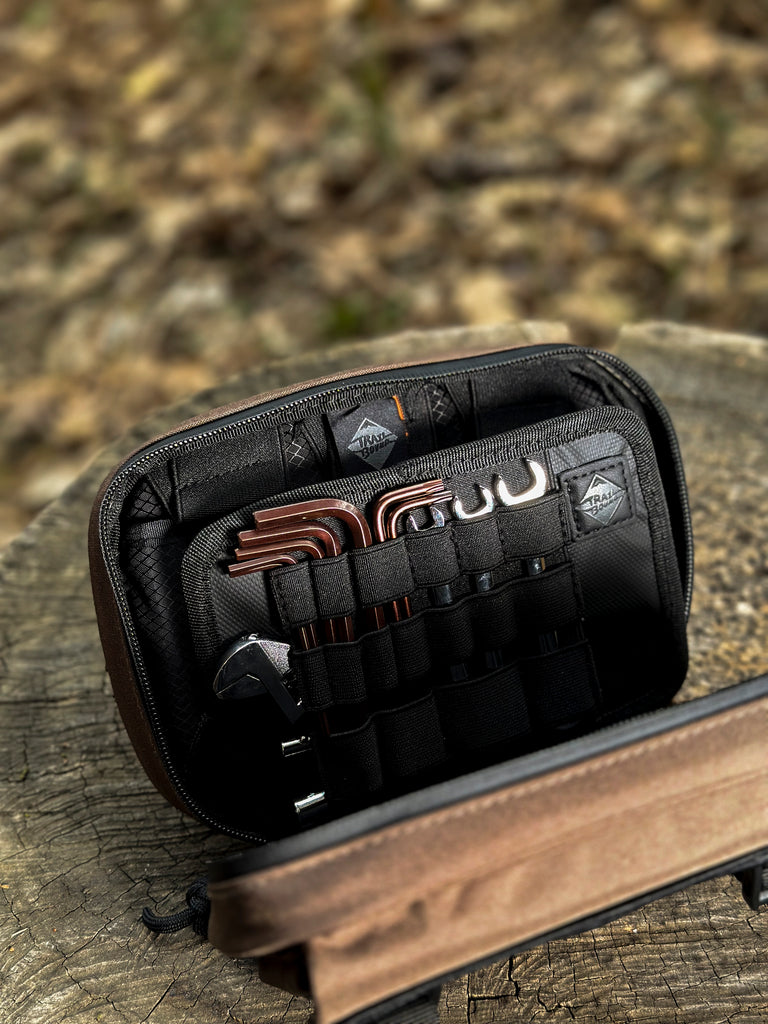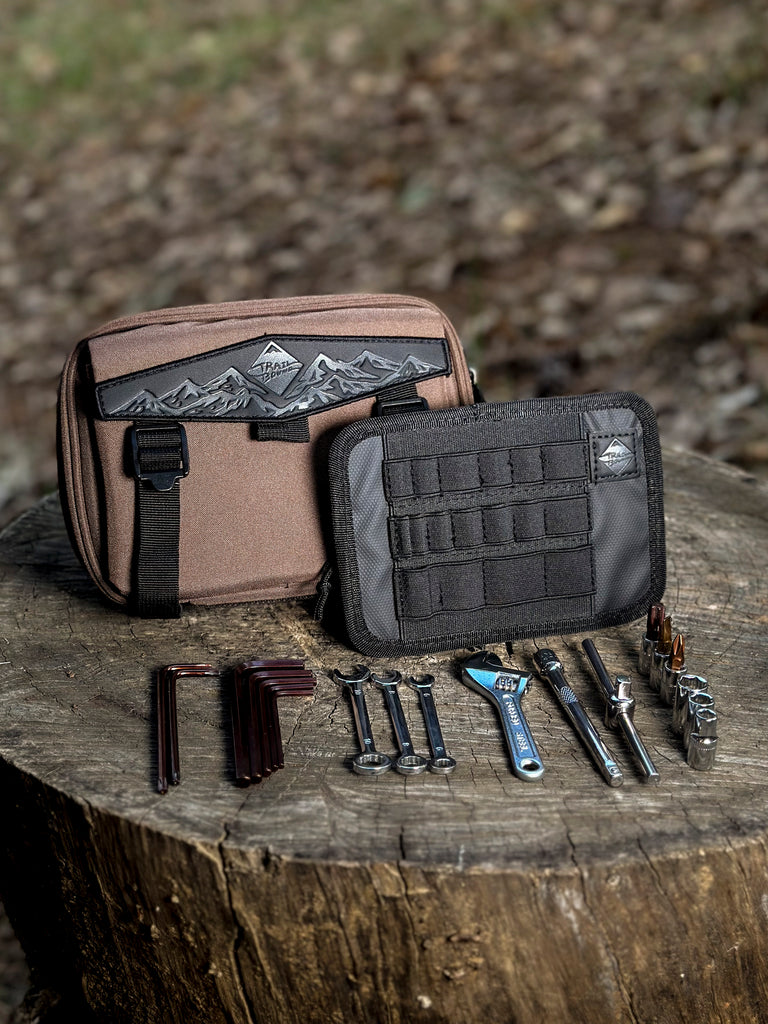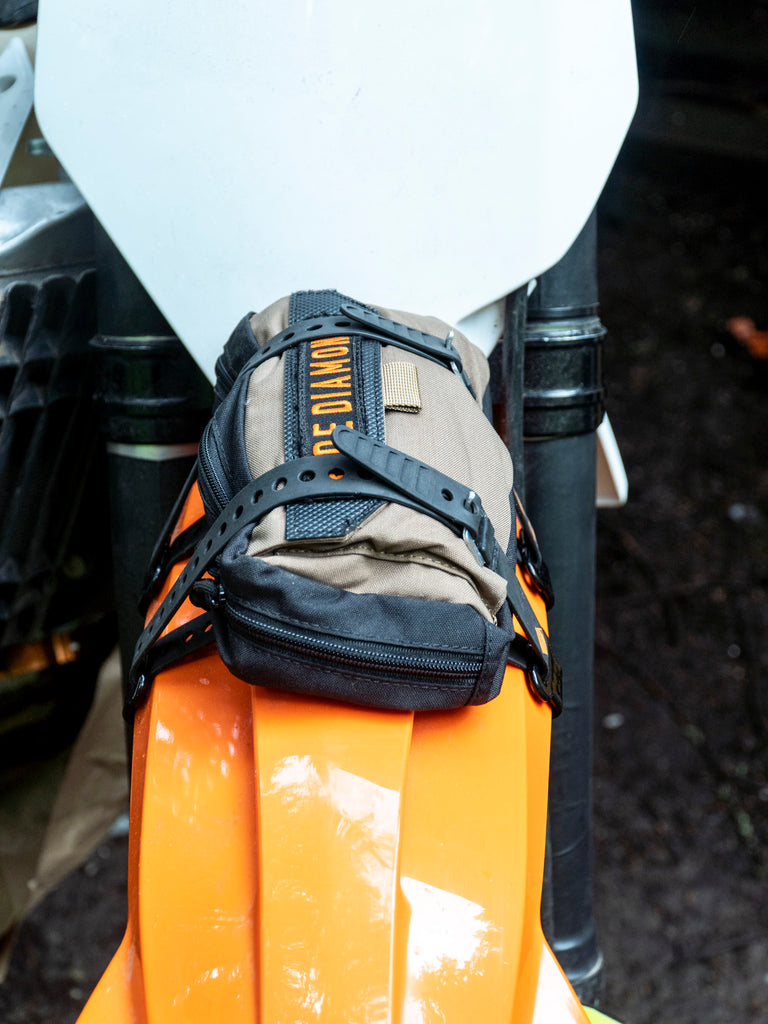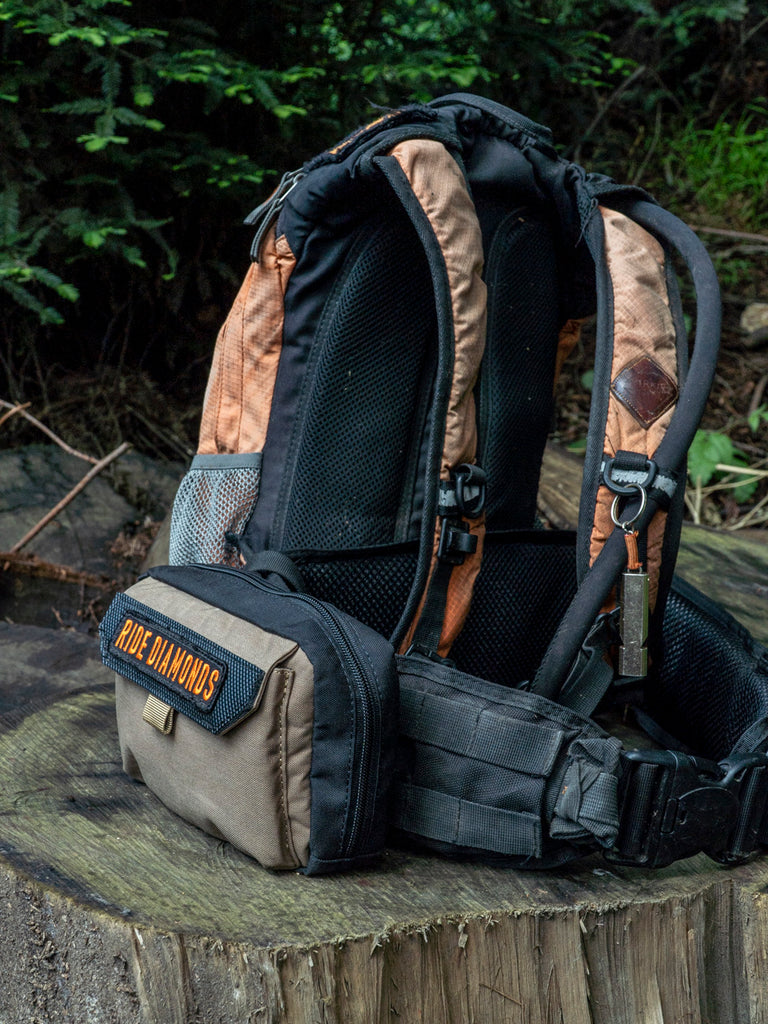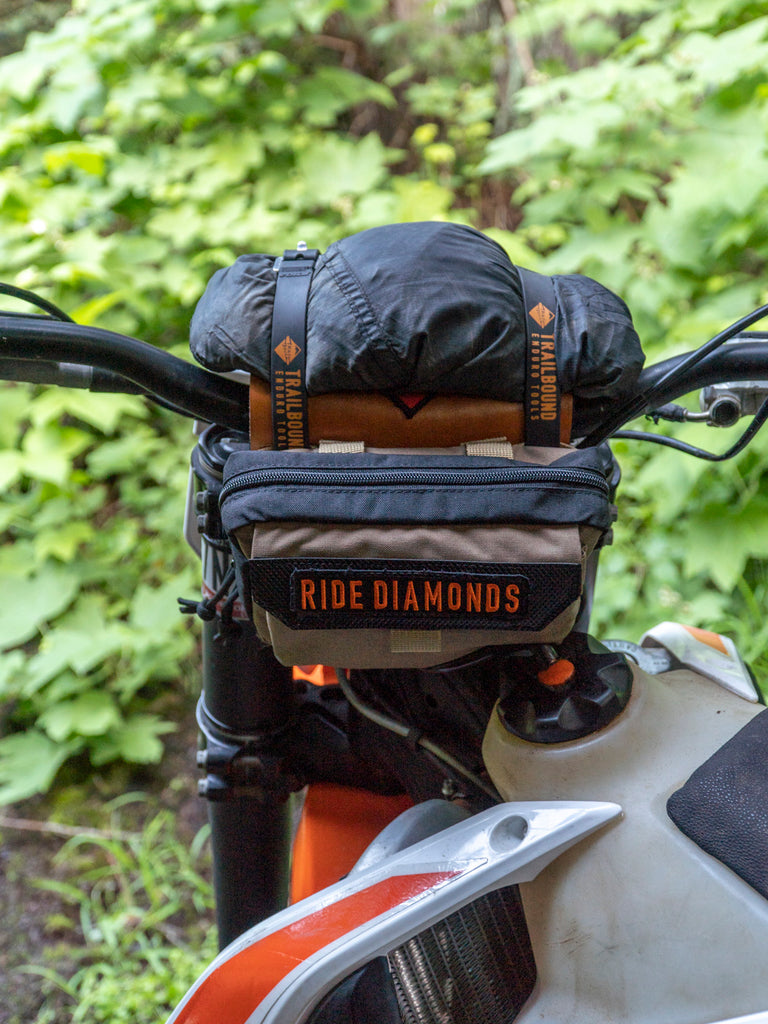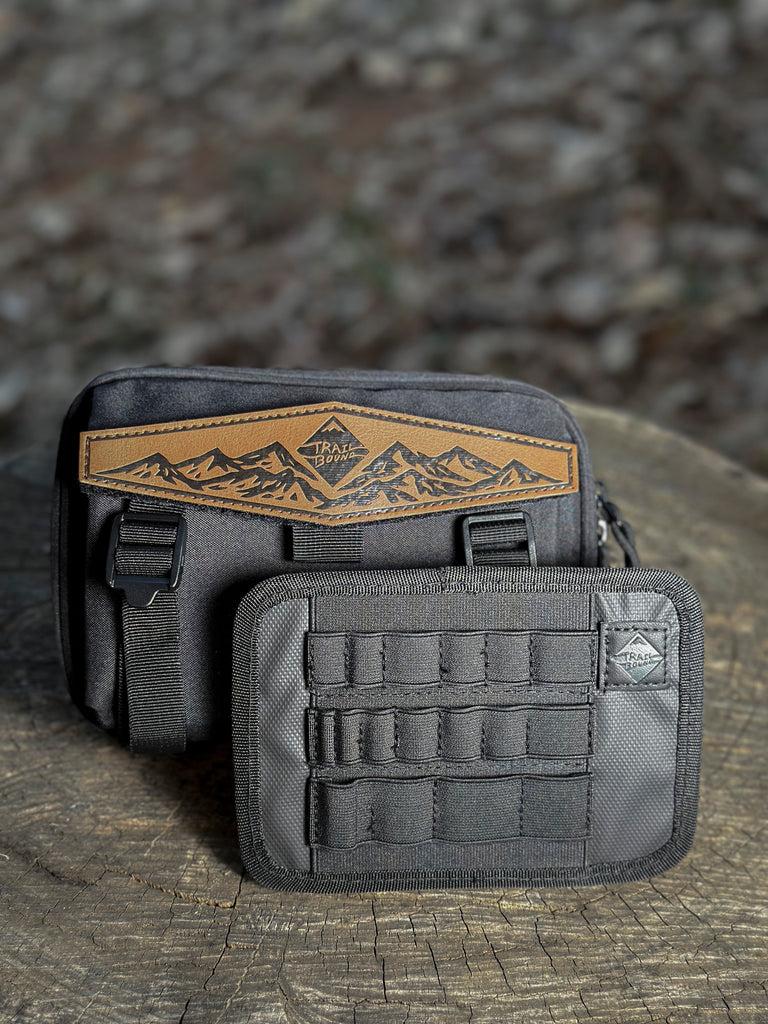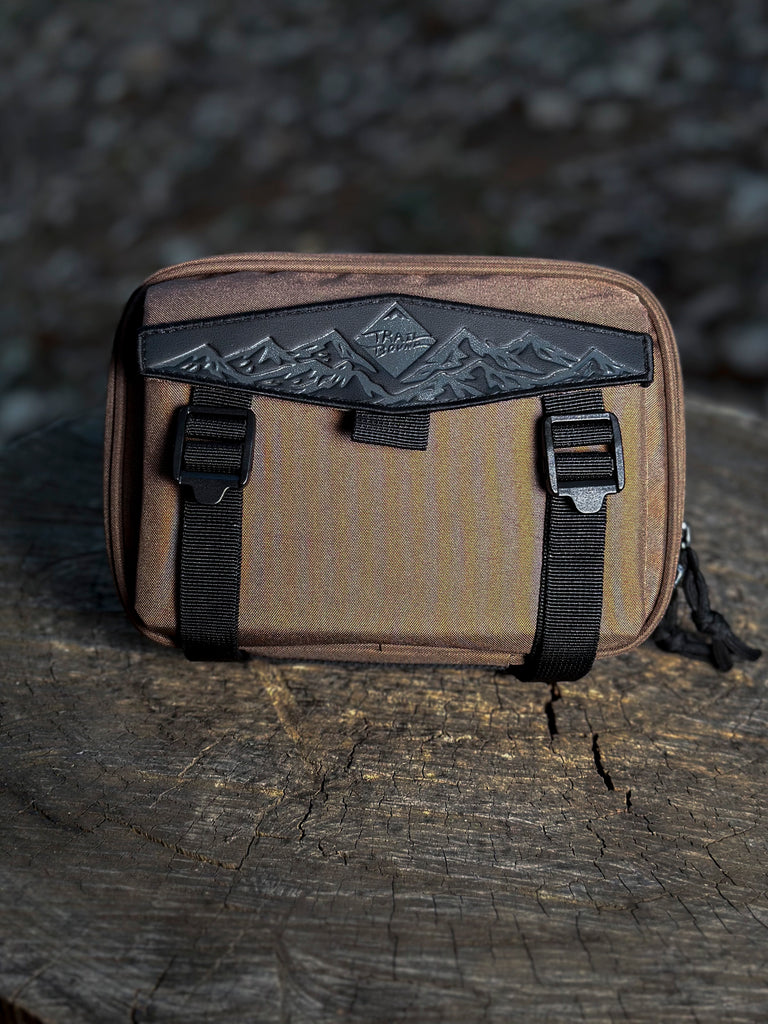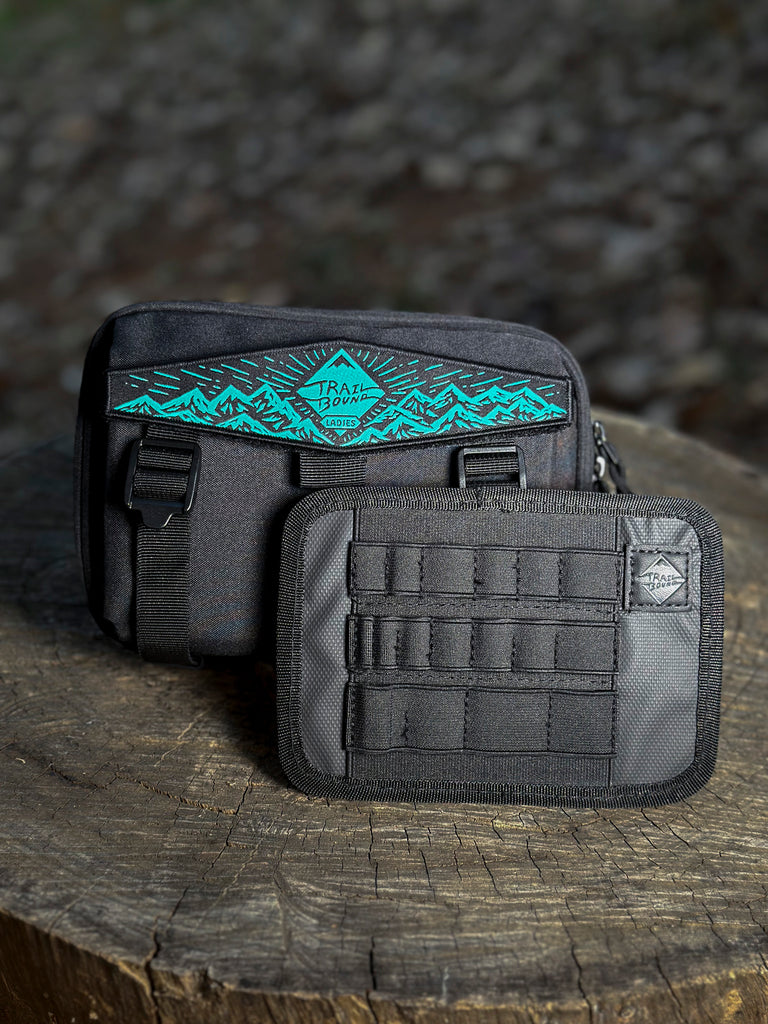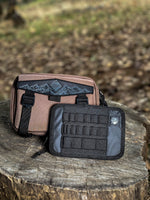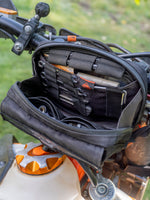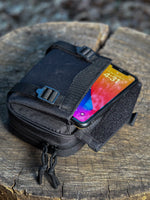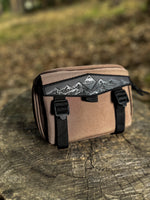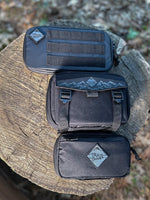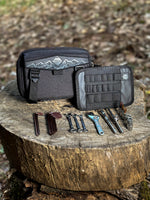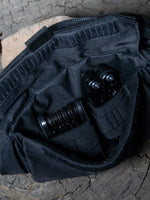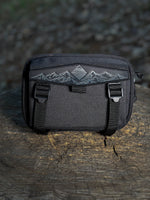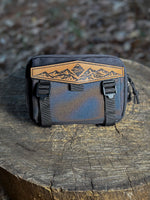 *If sold out please send me an email  saying what you want and I will get back to you when they are available*
The perfect size Pad Pack allowing you quick access to your trail riding essentials. The handlebar bag is mounted securely to the bars/triple clamp to fit things like your cell phone, snacks, multi tool, mini wrenches, KTM t-handle, bolts, or a small trail saw. Because of the placement over the wheel you don't feel weight which means better distribution of your gear and lightening up your backpack. Mount these bags with the included straps and hit the trail.  
** If we don't have the Patch you want listed as in Stock please feel free to reach out and contact us and we can try to accommodate or let you know when/if they will be restocked
Features
---
—500D Water resistant material   
—Quality proof double zippers
—Multiple organizing pockets
—Elastic tool organizer loops
—Elastic zip tie storage
—Padded felt lined exterior phone pocket that fits most phones
—Molly looping on back for more mounting options
—2 rear snaps for attaching to Molly looping 


Specs

---
—Size: 8"x5.5"x2.5"
—Felt lined front pocket:  6.5" x 4.75"


Tool Organizer (Optional)

---
—Easily pull this Tool organizer out of pad pack when working on bike
—6 vertical elastic tool slots for things like Allens and Torx wrenches
—3 horizontal elastic tool slots for things like screw drivers and t-handles
—Magnetic patch for holding bolts/sockets while working
—1 thin mesh pocket for things like sockets or spare bolts
—1 tall mesh pocket for things like JB weld, hose clamps, etc
—6.75"x4.75"
—3.2 oz

Mini Tool Kit (Optional)

---
—Compact and light weight tool kit that fits perfectly in the Tool Organizer 
—T-handle set with 6, 8, 10mm, Phillips and flat head screwdriver, T45
—Mini open/closed end wrench 6, 8, 10mm
—Mini adjustable wrench up to 13mm
—Allen 6, 5, 4, 2.5mm
—Torx T20, T25
—11.8 oz
*If sold out please send me an email  saying what you want and I will get back to you when they are available*
The perfect size Pad Pack allowing you quick access to your trail riding essentials. The handlebar bag is mounted securely to the bars/triple clamp to fit things like your cell phone, snacks, multi tool, mini wrenches, KTM t-handle, bolts, or a small trail saw. Because of the placement over the wheel you don't feel weight which means better distribution of your gear and lightening up your backpack. Mount these bags with the included straps and hit the trail.  
** If we don't have the Patch you want listed as in Stock please feel free to reach out and contact us and we can try to accommodate or let you know when/if they will be restocked
Features
---
—500D Water resistant material   
—Quality proof double zippers
—Multiple organizing pockets
—Elastic tool organizer loops
—Elastic zip tie storage
—Padded felt lined exterior phone pocket that fits most phones
—Molly looping on back for more mounting options
—2 rear snaps for attaching to Molly looping 


Specs

---
—Size: 8"x5.5"x2.5"
—Felt lined front pocket:  6.5" x 4.75"


Tool Organizer (Optional)

---
—Easily pull this Tool organizer out of pad pack when working on bike
—6 vertical elastic tool slots for things like Allens and Torx wrenches
—3 horizontal elastic tool slots for things like screw drivers and t-handles
—Magnetic patch for holding bolts/sockets while working
—1 thin mesh pocket for things like sockets or spare bolts
—1 tall mesh pocket for things like JB weld, hose clamps, etc
—6.75"x4.75"
—3.2 oz

Mini Tool Kit (Optional)

---
—Compact and light weight tool kit that fits perfectly in the Tool Organizer 
—T-handle set with 6, 8, 10mm, Phillips and flat head screwdriver, T45
—Mini open/closed end wrench 6, 8, 10mm
—Mini adjustable wrench up to 13mm
—Allen 6, 5, 4, 2.5mm
—Torx T20, T25
—11.8 oz
---
Related Products
---